Report on IPCA Europe Committee Meeting - Oslo October 2019
Human beings have incredible value

As we gathered together as the IPCA (Europe) steering committee in Oslo this autumn we were reminded time and again of the importance of seeing value in each other. Over the 72 hours that we were together we visited two prisons, talked with prison staff, prisoners, prison managers, attended a lecture and discussed plans for the IPCA 2022 Quinquenial conference. Arriving together on Monday we felt that we needed an algorithm to see us through, but in considering the people we met, we realised how much more valuable people are then any algorithm. I hope that this report reflects the glimpse we had of the valuable people we met.
The Prison Chaplains
We in the committee are all prison chaplains ourselves; from Ukraine, Norway, Germany, Sweden, and England. However the opportunity to meet Prison Chaplains serving in their home prisons, trying to see through their eyes was a real privilege. I am always reminded when I meet prison chaplains how extraordinary they are. In Halden Prison we heard of chaplains running programmes of retreat – 4 weeks of silent retreat with 8 prisoners based on Ignatian principles – pastoral supervision of staff, and taking the prophetic opportunity to be involved in shaping a rehabilitative culture.
Our tour of Bastøy prison was led by Terje, one of our committee who is chaplain there. His approach to staff, prisoners and the prison ethos was characteristic of a priest who understands his people and the possibilities found in them. Both prisons were remarkable: Halden emphasising 'Punishment that works, change that lasts'; Bastøy 'an arena for developing responsibility'; Halden, with its image of someone desperate to get rid of the chain they are tied to ; and Bastøy with its incredible pastoral beauty. In both of these environments, one built and one used to its natural potential, chaplains continue to demonstrate value to those with whom they work.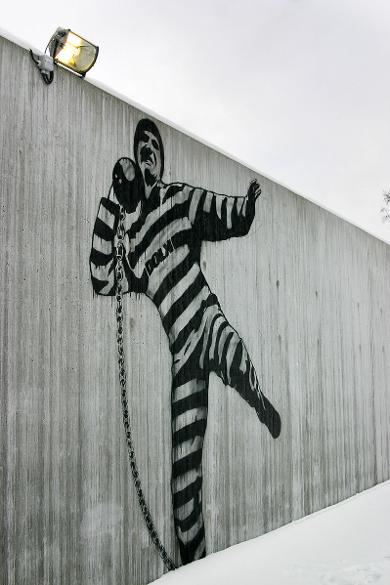 Graffiti Art by Dolk within the prison walls
The Prison Staff
We were encouraged to see prison staff who clearly saw themselves as people who can facilitate change in their daily work. Both Bastøy and Halden clearly attract much world attention. Much of this attention is on the surroundings – but we were particularly struck by those who worked there. The ethos of rehabilitation and culture of change was evident in all the formal presentations from prison managers and in the passing conversations we had with educational and uniformed staff during our visits. It seemed clear that the educational, vocational and cognitive behavioral interventions rely on well trained people willing to relate with those in their care and see in them the possibility of change. Prisoners in Norway face the same challenges, pains, chaos and trauma that people who have broken the law face everywhere, but practically showing value to people – whether that be in offering trust to a prisoner as he looks after the sheep on Bastøy, or equipping a young man to serve in a high quality restaurant in the 'Honest Food' restaurant in Halden – is a recognised and obviously practiced skill of those who work there.
And the Prison Staff themselves seem to feel valued too! The obvious pride in being a prison officer, the genuine belief that 'happy officers make for happy prisoners', and the commitment to making contacts with inmates count was for me what made these two prisons outstanding. Security is always key for prison staff, and rightly so, but security that serves change; whether it be systemic, dynamic or physical seems to offer the possibility of something different, something that could last beyond the unique environments of these prisons.
The Prisoners
The opportunity and privilege of having genuine interactions with prisoners is something many of us as prison chaplains unfortunately take for granted. However it was a particular pleasure to talk with prisoners in both the maximum security Halden and the open Bastøy relatively freely. The ethos of change and new beginnings, of possibilities and growing responsibility, of having been trusted and the desire to live better lives felt a lot deeper than just the words. One prisoner spoke at length with us about the silent retreat he had completed at Halden, before moving on to Bastøy and the difference this had begun to make in his life. There was no sense of 'having arrived' as he spoke, rather a mature understanding that the chance to become more emotionally connected to himself and to his family was still in very early days.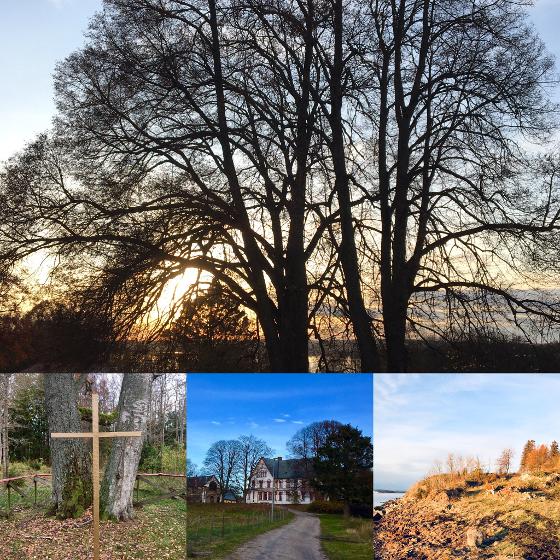 Chatting with prisoners over dinner, as they walked around the prisons, as they got on with their work, when they had sung to us in the chapel really did emphasise that valuing people, listening to people, getting to know people, seeking to understand people is truly transformative. The environment we saw was one where this is the culture and not the exception. It was a valuable environment, and one that offers hope that surely change will last. The hope that tomorrow could be better for everyone seemed very strong in those we spoke with, a hope that will need practical support , but one which time spent in Bastøy and in Halden have shown are possible.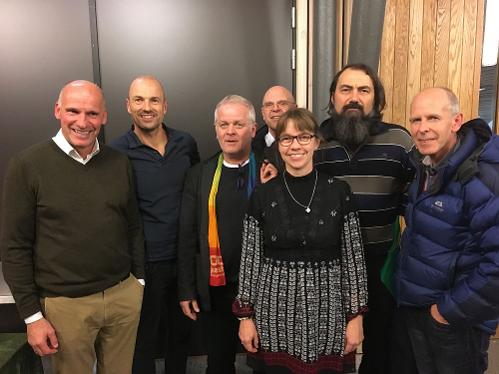 The Politician and the Lawyer
On Tuesday evening, having returned from Halden prison, we went to listen to a lecture delivered by Geir Lippestad the defence lawyer for Anders Behring Breivik who bombed Oslo in 2011, killing 77 people in the city. Geir's talk about the value we show to all people as being a practical foundation to society was genuinely inspiring. He spent time exploring two major events in his life; one personal and one professional where he was challenged to see his actions in terms of the inherent value of another human being.
Attitudes in many of our cultures to prisoners and people leaving prisons can be clouded when we see them as anything other than people who are in or leaving prison. Our attitudes to older people, to the disabled, to refugees, to any whom we may see as 'different' affect the way society functions, to the culture we accept as normal, to our ability to be truly human. His engaging and thought provoking lecture drew us all towards thoughts about how we demonstrate that we value people simply because they are people, and what a change in society this could and indeed has been shown to make.
Jesus offered change that lasts, the possibility to become newly created beings and live life fully in a relationship with God that guides and inspires us. The hope of this draws us on towards him and helps us all become more truly alive. Life on Bastøy island and within Halden's walls showed us clearly that demonstrating practical value can be transformative; it draws us to live better lives. As a steering committee we were inspired that in supporting, encouraging and advocating for chaplains across Europe it is essential that we continue to be those who value all created in God's image, however broken or damaged. An English prison officer once said "once a man learns to love his neighbour as himself, he will not kill him, rape her or sell his children drugs again". It was this value I believe we saw growing in prisoners at Halden and on Bastøy. I hope it is a value that we can all continue to live with.
Revd Bob Wilson (Vice Chair, IPCA)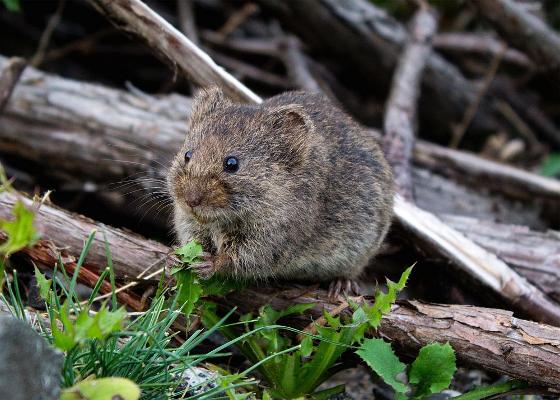 PS ... a mouse for Mischi ... looks like she's ok after all!